Media Agency Contracts: New Analysis Reveals Alarming Gaps

Analysis from FirmDecisions, the world's largest independent global marketing auditor, reveals interesting statistics on the current status of contracts between the world's advertisers and their media agencies.
After reviewing results of almost 300 media agency compliance audits FirmDecisions undertaken last year on behalf of national and global advertisers across Western Europe, the USA and the UAE, we found alarming gaps in many contracts which show that advertisers do not have full control over how their media budgets are spent.
The media landscape is complex and dynamic, demanding a strong contractual framework. And yet many advertisers do not even have a signed contract, and most have too few protections, leaving scope for media agencies to make undisclosed profits. Our study identified four shortcomings in contracts between advertisers and media agencies with two main issues:
1)   Unsigned contracts, insufficient audit rights

Our analysis shows that 29 percent of advertisers do not have a signed contract with their media agencies. This allows significant latitude in how agencies trade on their clients' behalf, as the governing contractual terms are uncertain. What's more, of the 71 percent of contracts that were signed, 32 percent had insufficient audit rights. This means that these advertisers cannot – in whole or in part – verify their agencies bought inventory as they report they did. There is also increasing evidence that some agencies are seeking to dictate the clients' choice of compliance auditor: the client should have the right to appoint the auditor of its choosing to ensure full transparency of the interlocking trading chains.
The highlights of the analysis and the potential risks for advertisers also cover several important contractual shortcomings:
2)   Limited data access


In 53 percent of cases, some form of access to relevant financial records was restricted by agencies, often with the result that advertisers were unable to see the details of transactions between agencies, third party platforms, distributors, and publishers.


Bonuses and rebates not being returned to advertisers - Regarding media benefits – rebates, free space, and Agency Volume Bonuses (AVBs) – in 59 percent of audits, FirmDecisions found insufficient or incomplete clauses in the contracts, potentially enabling agencies to retain these benefits for themselves, as the client was unable to demonstrate its contractual right to receive them. The analysis showed that in 73 percent of cases, the audit identified rebates which the agency had not returned to the client.  Even where rebates had been identified for return to the client in full, in a significant proportion of audits these had been calculated inaccurately to the benefit of the agency.


Finally, in 74 percent of audits analyzed, the agency disputed the auditors' interpretation of what constitutes a rebate. This can lead to significant friction between advertisers and media agencies.
 
Infographic: advertiser / agency contracts in numbers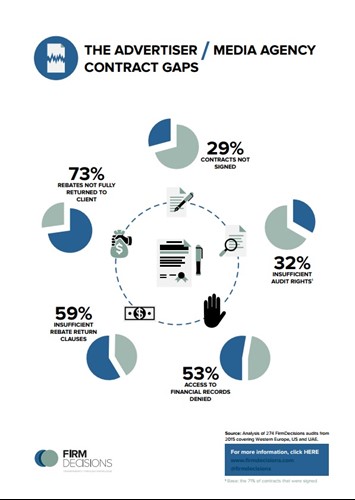 What our research highlights is the extent to which contracts are unsigned, incomplete, or simply inadequate to protect the advertisers' interests, leaving the agencies plenty of latitude, especially in the complex digital market.
As digital and programmatic make audit trails decreasingly transparent, all advertisers should seek professional advice about agency contracts, and then ensure their contractual rights are being adhered to and applied.
Our message to advertisers is simple: have a contract with full audit rights over media agency activity, and full transparency, and make sure you have access to records and data, which are yours and not the agency's. Advertisers need to protect their interests and guarantee transparency of their investment, which often runs to millions and sometimes billions of pounds, Euros and dollars.