APAC - Advertiser Vs Media Agency Contract Gaps
Following our last analysis across 300 audits in Europe, USA and the UAE (click here to read more), FirmDecisions have now conducted a similar analysis of 121 audits that were conducted across Asia Pacific in 2015. Not unsurprisingly, similar trends have emerged. Of course, many agreements are Global and will thus carry across all Regions. However, surely this makes the issues even more concerning? If Global contracts are not signed, or audit clauses not exhaustive or if agencies are not meeting their financial obligations with AVR's, then if these issues are Global and not just local, this potentially magnifies the same non-compliance issues across every country in the world.
While generally embraced as "Asia Pacific", this Region is an assortment of many cultures, religions, living standards, histories and idiosyncrasies. It is for this reason that Local agreements are very important. While Global contracts are very important to capture and define the broad terms of engagement, local agreements are equally important in ensuring local practices are accounted for.
When you then consider the growing and broadening aspects of the media landscape, it has become critical that advertisers ensure their best interests are protected by a robust, detailed and current contract with their agency groups.  Consider the exposure being experienced by clients and agencies in operating without a signed contract!
Our study looked at the same issues as were examined in our last analysis
Unsigned contracts, insufficient rights
Our analysis shows that 26% of advertisers do not have a signed contract with their media agencies.  Both agency and advertiser are at risk when they operate without a signed contract that defines the terms and legal status of their engagement.  Furthermore, 25% of contracts do not allow sufficient audit rights. An audit acts as a safety net for advertisers. For most companies, their media spend represents a large sum of money. An audit should be able to examine all of the records and transactions applicable to the advertiser's billings, across the whole of the agency group. However, some audit clauses have attempted to limit the scope of the audit while agencies have also created separate entities whose transactions are not subject to audit. In fact, agency groups are now actively attempting to influence client's choice of auditor – not something they should have a right to influence. The client should have the right to appoint the auditor of its choosing to ensure independence and full transparency of the interlocking trading chains.
Limited data access
In 43% of cases, some form of access to relevant financial records was restricted by the agencies, limiting the opportunity for the advertiser to ensure that the actual media cost has been passed on to the advertiser at cost, without (undeclared) mark up. The increasingly complicated chain of entities between publishers and agency allows for agency owned or related entities to earn extra margins or commissions. Indeed, without full data access for the auditor, it's possible that agencies have been charging advertisers for space that the agency group entities have received for free.
Bonuses and rebates not being returned to advertisers. These "media benefits" include rebates, free space, Value banks and Agency Volume Bonuses (AVB's). In 60% of audits in APAC, FirmDecisions found insufficient or incomplete clauses in the contracts, thus providing scope for the agency to develop media plans that will maximise the rebates for the agency, rather than to ensure all rebates go back to their client and thus avoid any potential for a Conflict of interest.


The analysis also showed that, in 40% of cases, the audit identified rebates that had not yet been returned to the client by the agency. This has stemmed from a variety of factors, including calculation errors when determining the client's "fair share", or perhaps one category of media had been omitted (such as digital) from the full listing; or rebates rejected because the agency was late paying the vendor; or the agency had withheld ALL rebates for over a year because one vendor was still to be reconciled. In fact, some advertisers were not even aware of their right to receive these AVB's, allowing the agency to retain access to these AVB's unless or until the advertiser asked for them.


Infographic: advertiser / agency contracts in numbers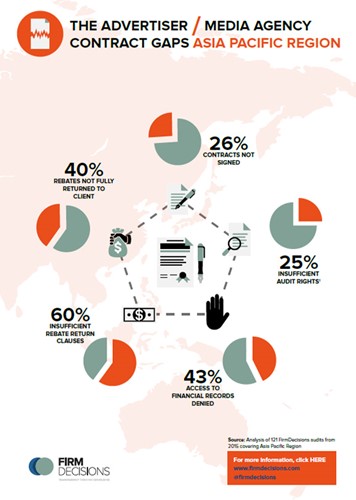 What our research highlights is the extent to which contracts are unsigned, incomplete, or simply inadequate to protect the advertisers' interests, leaving the agencies plenty of latitude, especially in the complex digital market.
As digital and programmatic make audit trails decreasingly transparent, all advertisers should seek professional advice about agency contracts, and then ensure their contractual rights are being adhered to and applied.
Our message to advertisers is simple: have a contract with full audit rights over media agency activity, and full transparency, and make sure you have access to records and data, which are yours and not the agency's. Advertisers need to protect their interests and guarantee transparency of their investment, which often runs to millions and sometimes billions of pounds, Euros and dollars.
To explore our media contract analysis covering Western Europe, US and UAE click here.