Media Contracts In The Digital Age


FirmDecisions' Managing Director, Digital, Federica Aperio, outlines the steps advertisers should take to ensure their contracts with media agencies deliver for the digital age.
Over the last five years, digital advertising has become increasingly complex. The introduction of programmatic trading has complicated the market further, meaning the deals available today are more varied than ever. And the growth in technology platforms has changed the supply chain out of all recognition.
During this period, media agencies have developed their digital service offerings – blurring the line between buyer and seller – and so have created a complex matrix of relationships between media, data, and technology suppliers. At the same time, agencies have largely failed to educate clients about these changes and their implications.
So, as the digital ecosystem has developed, advertisers have increasingly handed over responsibility to agencies to manage this complexity. In today's environment, this has now made advertisers feel their investment is at risk from opportunistic approaches and techniques that reduce the proportion of their digital investment being spent on 'working media' and go straight into agency revenue streams.
However, it is believed that these practices may be pervasive elsewhere in the world, and particularly in digital. Even if advertisers in Europe knew these issues were happening in their local markets, they perhaps haven't fully understood the extent of the situation across the globe.
As a result, today's procurement and legal teams often have a low-level of understanding of the intricacies and complexity of the digital market. Therefore contracts, Master Service Agreements (MSAs) and Statements Of Work (SOWs) are often not written in an advertiser's favor, leaving room for misinterpretation and misunderstanding over which services the agency should provide and what monies they should bill and pass back to advertisers.
In fact, recent research from FirmDecisions suggests that 27 percent of all active advertiser/agency contracts include terms that prevent advertisers from obtaining full access to digital data for the purposes of auditing contract compliance.
We believe that advertisers need to take three critical steps to reduce their risk and give them more transparency over digital investment.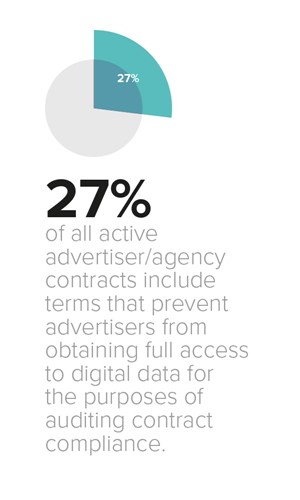 The right steps…
1.    Procurement and legal need to brush up on their understanding of the changes in digital trading so that contract negotiations can take place on more equal terms. This learning should come from an independent source, so that stakeholders get an unbiased view of the risks and benefits associated with the digital media trading ecosystem.
2.    Advertisers (not agencies) should tender the first draft of the advertiser/agency contract. They should make sure all their needs are spelled out explicitly in this first draft, using it as a starting point for discussions. They should be clear about what is and what isn't negotiable.
3.    Contracts need to adapt in lock-step with changes in digital investment. Contracts should be reviewed at least annually, accommodating changing agency practices to ensure they're up-to-date and reflect prevailing best practice.
Advertisers have a responsibility to keep informed of changing market dynamics, and contracts need to balance opportunities and risks and so maximise transparency in digital trading.