Five big things we learned at ProcureCon

At the end of November, the worlds of marketing and procurement were drawn together by ProcureCon's annual Marketing Procurement conference. Brands and agencies, auditors and consultants, adtech and martech vendors came together in New Orleans. Throughout the three-day event, the single theme of transparency continued to dominate. In keynote speeches and interactive workshops. At roundtable discussions and facilitated networking sessions. It was even the hot topic over cocktails and dinner.
While transparency in the increasingly-complex and automated, online media ecosystem is very much the word of the year, debate among the engaged and diverse participants at ProcureCon covered many issues. These included: pitch management, models of agency remuneration, 360-degree relationship management, and return on investment in sponsorship. There was also a significant strand of discussion centered on how procurement should manage key stakeholders in marketing, with the consensus being that they should think more like marketers and less like procurement people.
FirmDecisions played an active role at ProcureCon, sharing our thinking on "Modern marketing procurement: digital learnings and how to define success". We also moderated a panel discussion on production transparency – an area of increasing interest and concern for advertisers, beyond transparency in media. Based on our attendance and involvement, we came away with five learnings.
Digital's continued growth brings ever-more complexity with it
The continued growth of the media agency and supplier partner landscape is making life increasingly complex for marketing procurement. This is particularly true because of the number of adtech and martech vendors now involved in the supply chain. Steve Dubroff from MetLife showed how it is – in fact – possible to create a meaningful strategy from this apparent chaos, an ecosystem that today spans more than 120,000 different agencies in the US alone. Over recent years, this complexity has been exacerbated thanks to the evolution of the digital supply chain that advertisers also need to understand in order to navigate it effectively.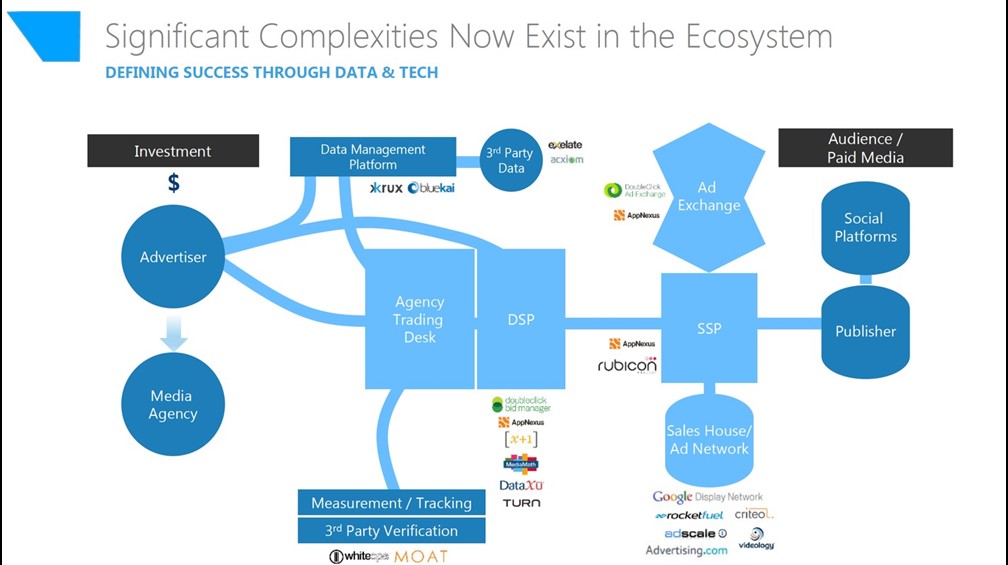 Transparency in programmatic is a major cause of concern
More and more media inventory is being traded programmatically, both online video and display, as well as other, "traditional" media including TV and out-of-home. Advertisers are clearly still struggling to secure transparency on programmatic media buying, however. Former Director of Marketing Sourcing at Disney, John Hardy, mapped out a best-in-class strategy he believes that procurement should adopt to secure enhanced transparency in programmatic. This includes marketing procurement making it a priority to educate themselves on all parts of the ecosystem, empowering them to ask the right questions of marketing and the agency, and ensuring that they secure audit rights in their contracts through to the agency holding company and including the agency affiliates.
Procurement has an internal selling job to do
To convince marketers of the very real value procurement can bring to marketing efficiency and effectiveness, procurement people need to think and behave more like marketers than they have up til now. They should pitch themselves as the marketing department's trusted partner and adviser, helping marketers to consider all buying options. The benefits are then that marketers can better drive business value and exceed both their business and marketing objectives. Speakers from both Best Buy and Dr. Pepper encouraged procurement to focus on value not cost savings, bringing ideas to the table to drive value and being at the cutting edge. Procurement should also make it so straightforward for marketing to deal with them that they couldn't imagine life without them.
Advertisers need help – and confidence – when changing agencies
Over the past three years, the number of national and global pitches for media accounts has hit new highs. In 2016, 30 of the top 100 advertisers in the US alone changed agencies. Three-quarters of these included a competitive review, and half involved a creative agency review, too. While many advertisers have chosen to remain with their incumbent media agency of record, many have also chosen to end one relationship and start a new one.
There was a consensus at ProcureCon that marketers need help when transitioning between agencies, and procurement has an important role to play in this transition. Issues where marketers can benefit from procurement's skills and expertise include: driving the transition such that roles are clearly defined with appropriate timings, socializing the plan, managing the transfer of assets and intellectual property, and negotiating the right terms with the new agency. Exiting the incumbent agency relationship should be done gracefully, and a clean break ensures that no monies are owed by the advertiser, and that none are due in the form of rebates from agencies. This can be managed through a third party exit audit. Above all else, marketers changing agency need to put in place and implement a coherent and thought-through transition plan to ensure the relationship being left behind has been fully reconciled, and all learnings are taken to the next relationship.
Agencies are now ranking advertisers on good and bad pitch experiences
Much of the debate about advertiser-agency relationships in 2017 – particularly on issues of transparency – has been focused on how advertisers should hold agencies to account; how they should look to ensure that their media and marketing spend is invested to deliver optimal return on investment. But partnerships are a two-way street, and the conference saw calls for advertisers to be aware that the Institute of Communication Agencies is now praising and blaming advertisers over good and bad pitches. The ICA provides a simple, online template with which advertisers are rated by agencies for their behavior and approach during pitches. This can have consequences for both advertisers and agencies, as agencies may not be prepared to tender for business if advertisers have been found to be unfair or inconsistent in past pitches.
ProcureCon Marketing has become a must-attend event for those involved in marketing, procurement, or both. Delegates left New Orleans with a watch-list to better shape their planning for 2018. What is clear is that marketing and procurement are working together more closely than ever before, but there are clearly a number of areas where their partnership can and should be reinforced.